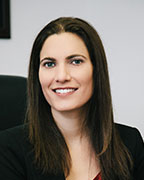 Board Certified Family Law Specialist
Areas of Practice
Domestic Law
General Civil Litigation
Education
Wake Forest University School of Law, Winston-Salem, North Carolina, 2012
J.D.
Journal of Business and Intellectual Property Law, Editorial Staff Member, 2010-2012
AAJ Trial Team 2010-2012
East Carolina University School of Business, Greenville, North Carolina, 2010
MBA
Major: Business
Guilford College, Greensboro, North Carolina, 2006
B.A.
Major: Forensic Biology
Honors: High Honors
The National Scholars Honor Society
State University of New York at Buffalo, Buffalo, New York, 2004
MSW
Major: Social Work
University of California, Riverside, California, 2002
B.A.
Major: Psychology
Honors: Highest Honors
Phi Beta Kappa
Golden Key Honor Society
Contact Info
Phone: 336.760.1400
Fax: 336.760.4520
Paralegal: Jennifer Pittman
Law Practice Areas
Natalie Vermitsky joined the firm in 2012. Her practice focuses on all aspects of family and domestic law, including custody, child support, separation agreements, spousal support and equitable distribution. She attended Wake Forest School of Law, graduating in 2012 in the top 20% of her class. While in law school, Natalie was a member of the AAJ Trial Team and the Journal of Business and Intellectual Property Law. She was also active in the Trial Bar Program.
Education & Past Experience
Natalie graduated from the University of California in Riverside, California in 2002, earning a B.A. in psychology with Highest Honors. She went on to receive her Master of Social Work degree from the University at Buffalo in 2004. Natalie received her second B.A. from Guilford College, graduating in 2006 with High Honors. She received a Master of Business Administration degree in 2010 from East Carolina University. For nearly a decade, Natalie worked with families and individuals as a social worker and counselor, giving her the knowledge and experience to effectively advocate for her clients.