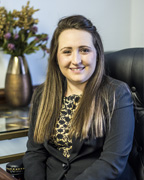 Areas of Practice
Education
Wake Forest University School of Law, Winston-Salem, North Carolina, 2014
J.D.
North Carolina State University, Raleigh, North Carolina, 2011
Bachelor of Science- Magna Cum Laude
Major: Political Science
Contact Info
Phone: 336.760.1400
Fax: 336.760.4520
Paralegals:
Ashley Grayson-Criminal and Traffic
Jennifer Pittman-Family Law
Practice Areas
Erin Woodrum joined the firm in 2017 following three years in solo practice. Her practice areas include criminal, traffic and domestic law. Ms. Woodrum handles misdemeanor and felony cases in the North Carolina state courts as well as traffic tickets and driving while impaired charges. Her domestic practice covers child custody, child support, spousal support and equitable distribution. Unlike many domestic lawyers, Ms. Woodrum also handles termination of parental rights cases, as well as DSS cases or investigations alleging the abuse, neglect or dependency of children.
Education & Accolades
Ms. Woodrum is a 2014 graduate of the Wake Forest University School of Law. During law school, she was an active member of the Moot Court Board and participated in national level moot court competitions. She was also selected as a Martin Luther King, Jr. Intern by Legal Aid of North Carolina for demonstrating talent and a commitment to equal justice. Ms. Woodrum began college at the age of 16 and received her undergraduate degree in Political Science from North Carolina State University, graduating magna cum laude in 2011.
More About Erin
She is originally from the Cleveland, Ohio area. Since 2011, she and her husband have called Winston-Salem home. Outside of work, Erin is most passionate about everything having to do with animals. She enjoys spending time on her small farm with her four rescue dogs (plus whatever fosters might be hanging out), two cats, two horses, two donkeys, five goats and many chickens. Erin enjoys all things outdoors and is very passionate about animal rescue work